Strike a pose on the Mondayest Tuesday ever. And yup -- sunglasses at 5:00am.
P.S. (Ridiculous: Who begins a post with a P.S.?) Those sunglasses serve two purposes: Keeping the sun out of my eyes/more bearable, and keeping bugs out of my eyes/trapping bugs under them, causing me to go into a chaotic fit to pause my Garmin and fling the glasses over my head.
P.P.S. (And the ridiculousness continues...) When you're sweaty, bugs stick to your skin.:(
I grabbed some toast with jelly, a sunny-side up egg with two egg whites, and a banana for breaky. BROTEIN AND FAT, baby!
Sophia's favorite bird is the Cardinal. I thought I had found one this morning, and since I'm not a bird expert, I'll leave this one open to discussion ------- yay or nay?
Either way, the nine year-old totally bought it and loved the picture.
Warm-up of the day = "Meet in the Middle", where I tell the students to run to the middle of the court to their partner (on the opposite side), and they do an action each time I tell them to go. It can be a build-up game, too. I think at one point, the students had built up to: Meet your partner in the middle, slap five, slap five, elbow, elbow, knee, knee, foot, foot, talk like a pirate (most of them go "ARRRR!"), spin once, do five push-ups, do a silly handshake, 10 jumping jacks, then run back to your line.
*blink* They love it.
After school, I had to hit up the super regional track meet for our networks. I SWEAR that the Heavens opened on our track meets for the past two weeks. We finally got all of our events done last night ------> RELIEF.
It was seriously a long day, that ended up with me being getting home around 8:00pm. Harry had plans with friends, so I had the house to myself when I got home. I ended up having the same breaky for dinner -- I just love eggggggs.
-------------------------------------------------------------------------------------------
So this week's WORD is "EMPOWER", which is a wonderful little prompt for me.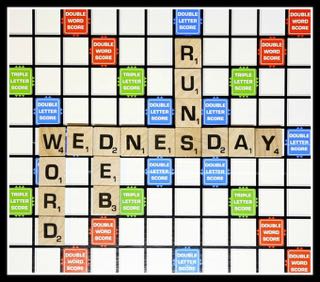 Two things come to mind when I hear/read the word "Empower". The "lifting up of others", giving allowance or warranting type of empowerment; I feel like is almost akin to women's rights. The claiming of rights and taking control, creating self-actualization, and more legal encouragement is particularly infamous for women in the last century; kind of a big deal in women's history. I feel like it's from this definition/expression where women's empowerment and feminism created an idea
----->
we can do hard things, too! Women's rights ('cuse me, though...ALL human's rights) had a long-time coming. I believe that our attitudes have become more progressive since going from demanding to be able to vote, being able to make choices with our bodies, to demanding equal pay. There's a ton more that we had to work for, but we'll keep it to "legal" challenges for now. Before and in-between those times, we keep proving that we are strong; that we empower one another with words and actions of enabling.
Empower -- It's sort of the idea behind women's racing as of late (I.e.
Esprit de She
,
ZOOMA
, any "Diva Dash" or Disney Princess, etc.). These types of races, while some may roll their eyes at, are really fun and create a different sense of competition; a "we're all in this together" type of attitude. You should definitely try one some time.
The other/my idea of empowerment is of the self = what God gives me. Empowerment, to me, is synonymous with strength, but it's something that's given, rather than intrinsically built. He gives me everything I need, to do all of the hard things, all of the easy things, and to have a happy, strong life!:)
All of this talk about positive, uplifting things ---- I have some good mental fuel for speedwork!
Y'all have a blessed Wednesday.:)
----------------------------------------------------------------------------------------------
Does someone or something empower you?
Have you ever run a women's only race? Which one?
I have raced the Esprit de She triathlon and Chicago ZOOMA half marathon.
Running in the rain: Thumbs up or thumbs down?
I'm okay with it, as long as there isn't any lighting.