Because
"Throwback Thursday"
, y'all.
I work with some amazing people. Here I am, cleaning up my diet early on (I have a racing goal weight, which cannot be taken care of during marathon training), with speedwork sessions at night on Wednesdays (so I like to keep my noms light throughout the day), and they bring in things like this during meetings. I also swam before this meeting...can you say "
AGONY
"?
This was only the biggest bag of Ghirardelli chocolates I have ever seen in my life. I passed the bag along several
agonizing
times, and every time I whimpered a little.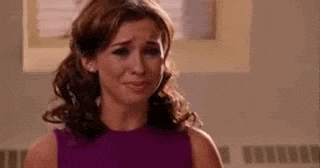 My co-workers give me a hard time about eating the way I do (does anyone else deal with this?), and passing up things like this, but I had to focus on my nutrition today so I could enjoy something
unhealthy
fattening
rewarding after running.
I left the house to go swim before work, and all I could find in the fridge was what became a mash-up for lunch. Sweet potato, brown rice and quinoa with garlic, and some shredded carrots. It looks so bland, but it was actually very delish.
Work work work (more like workOUTS, huzzah for being a P.E. teacher!), got home and had an apple before Harry and I suited up and headed to the track to meet up with the speed crew.
After a brief (800m) warm-up and some dynamic stretching (I opted for butt-kicks, high knees, and side-to-side leg swings), we did 4 x 100 stride outs. My right hamstring gave me some trouble here. I'm not exactly sure what happened, but I'm hoping it's nothing major. I felt like I could go on, so Stephanie and I buddy'd up again and ran after the guys.
Greg ("Fearless Leader") had posted the evening's speed workout on the boards earlier in the day. Come to find out, it was Stephanie who was to blame for this torture:
5, 4, 3, 2, 1
(five minutes strong effort, five minutes recovery; four minutes strong effort, four minutes recovery, etc.). It was a beast of a workout, and I'm not sure how I finished it (Stephanie apparently knew when to ask me a question or continue conversation just when I wanted to bail...we have the ESPN), but it got done.
Um, we were running pretty fast (we were around a 6:45 pace here). I was seriously holding the camera as steady as I could. Those recoveries felt SO GOOD!
Greg had also posted that we were going to do push-ups (25) after the speed to complete the workout. I was the jerk who reminded everyone of it.
We stretched and got outta there, heading straight for
Bad Dog Tavern
for some gourmet burgers and recovery beer. We weren't in THAT MUCH of a hurry (or at least our legs weren't). We strolled for a bit and came across some pretty scenery.
River Park
is a point for the running and biking trails. We hope to get out on the trail for future organized tempo runs with the group.
We met everyone at the tavern and ordered up some amazing burgers! I had a bacon n' brie (OMG BRIE!) burger, while Harry had a steakhouse burger. Those fries were ABSOLUTELY fantastic, too!
Sweet potato tots!
Harry really liked his burger. I wish he'd look at me that way. *le swoon*
Once again, we couldn't stop talking about the meetup during the car ride home. I was telling Harry last night how excited I was about keeping these speedwork sessions in my marathon training. I didn't do speedwork
either times I ran the 26.2
, in fear of just wanting to complete the distances. I should've known better as a Kines! I know that this is good for us, and for our (or my [rather ambitious]) goals. We also love how dynamic the workouts will be. Everyone in the crew is very knowledgeable and has great ideas for future torture sessions.
----------------------------------------------------------------------------------------------------------
Do you keep regular speed workouts in your training?
What are some of your favorite speed workouts?
How beneficial do you find nutrition in training? Are you pretty strict with it?